Discover Pittsburgh
---
City & Region
Economy
Neighborhoods
& Schools
Cultural
Enrichment
Shopping
Sports
Outdoor
Recreation
Special Places
to Visit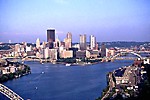 Discover the New Pittsburgh

Pittsburgh makes a spectacular first impression. The beauty and power of The Point is initially captured in the dramatic view of the city skyline as you exit the Fort Pitt Tunnel and behold downtown. We are the only city in America with such a magnificent "entrance"!

Relocation to the Greater Pittsburgh Region is an unexpected pleasure. The hills and valleys are cloaked with clean air. Our cultural activities, endowed by the wealth of a manufacturing past, now support the education and entertainment of a high technology future. The intrinsic values of the population have been built upon a heritage of hard work and neighborliness. Newcomers and former residents are welcomed and enjoy an unparalleled quality of life.