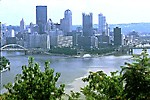 Getting Back to the Point®

The Greater Pittsburgh Region is the best place to live, work, raise a family, and be part of a community. We have it all! The only thing missing is you!

Come back to our region. There are many opportunities for you.

We recommend that you routinely search the websites, cited below, for employment opportunities, as well as go directly to the websites of the companies for which you would have an interest in working.

You may also wish to visit the Career Resource Center, a service of the Pittsburgh Regional Alliance for additional resources for job searches.

Career Resource Center

careerdevelopmentcenter.org
The Career Development Center provides a professional environment where clients seeking employment can search for jobs and pursue careers with the help of dedicated staff.
Regional Websites that List Employment Opportunities
National Websites that List Employment Opportunities
We wish you the best in your career search, and hope that you find an opportunity that will bring you back to the Greater Pittsburgh Region in the near future.