Co-Founders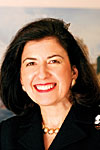 Ellen A. Roth, Ph.D.
Dr. Ellen Roth is the President of Getting to the Point, Inc., a premiere Pittsburgh based relocation company. She is a former mental health professional and research consultant whose work was primarily with emotionally disturbed children. She received her Ph.D. from the School of Education at the University of Pittsburgh. Her clinical training and education prepared her for helping individuals cope with stressful family matters. She relocated to Pittsburgh in 1974 with her husband, and successfully integrated the responsibilities of child rearing with work, higher education, and volunteer activities. She is active in many business and professional organizations, and serves on several Boards. She has a wide range of personal and community contacts in virtually all fields and growing industries. Ellen Roth is also a member of the National Speakers Association. She speaks and publishes on the subject of relocation and the advantages of living in the Greater Pittsburgh Region. In 2003, she received an award from Governor Edward G. Rendell for being among the Best 50 Women in Business in Pennsylvania. In 2007, she was honored by the Girl Scouts-Trillium Council as a Women of Distinction in the category of "Professional Woman." In 2009, she was honored to receive the YWCA Tribute to Women Leadership Award in the Category of "Entrepreneur."

Ellen A. Roth is also the author of Ten Fingers Touching, a beautifully illustrated fairy tale for adults. To learn more about the book click here.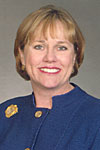 Jacqui Fiske Lazo, Esq.
Jacqui Fiske Lazo is an attorney admitted to practice in Pennsylvania and Connecticut. In Connecticut, where she practiced law for ten years prior to relocating to Pittsburgh with her husband and daughter, she was a senior and managing partner of Tirola, Herring, Pober and Lazo. Her expertise is in real estate law. She is currently the head of the real estate department and a member of the Board of Directors of one of the top 80 law firms in the country, while serving as the legal consultant to Getting to the Point, Inc. Through her professional activities and leadership positions in charitable organizations in this region, she has extensive contacts in both business and law. Having grown up in a family that relocated many times, Ms. Lazo is sensitive to the issues and problems involved. She is always delighted to assist individuals in transition.