Discover Pittsburgh
---
City & Region
Economy
Neighborhoods
& Schools
Cultural
Enrichment
Shopping
Sports
Outdoor
Recreation
Special Places
to Visit



Discover the New Pittsburgh - The Economy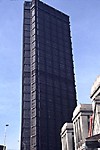 The Greater Pittsburgh Region is on the crest of a wave of tremendous growth and expansion.

Growth and Expansion

The North Shore is now home to a new baseball park and a new football field. PNC Park, where the Pirates play, is the first two-deck ballpark built in the United States in half a century. At a cost of $228 million, the ballpark seats 38,000, and has a natural grass playing field. It is not only a magnificent facility, but also offers great food concessions, a fabulous clubhouse, a River Walk, and a magnificent view of the city.

The Steelers play at Heinz Field, a new, $289-million, 64,450-seat, horse-shoe shaped, state-of-the-art stadium that provides a spectacular vista of the downtown skyline. Nationally acclaimed for its award-winning design, it features exposed structural steel calling to mind Pittsburgh's proud industrial heritage.

The new $331-million David L. Lawrence Convention Center officially opened September 20, 2003. Magnificently designed by New York architect, Rafael Vinoly, the facility embodies state-of-the-art high-performance environmental features, and a roof shaped like a suspension bridge, echoing nearby bridges on the Allegheny River. It is the first environmentally smart or "green" convention center in the United States.

The University of Pittsburgh Cancer Institute celebrated the opening of the $130-million Hillman Cancer Center, a state-of-the-art patient care, and cutting-edge cancer research institute. It is destined to become one of the top five cancer centers in the country.

UPMC Sports Medicine built a multi-million dollar sports complex on the South Side.

Highmark SportsWorks is a major expansion of the Carnegie Science Center. It features amazing exhibits that combine, in an entertaining way, experiencing real or virtual sports, with teaching the laws of science that underscore sports.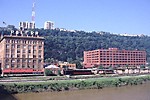 Station Square, an historic landmark area, has developed a new courtyard reminiscent of Ghirardelli Square in San Francisco. Bessemer Court, situated on the waterfront, features new restaurants, a Hard Rock Café, homemade ice cream, and it is a fun place to stroll around. In season activities include live entertainment and a fountain with dancing waters. You can also board one of the Gateway Clipper Fleet's riverboats and cruise on the rivers.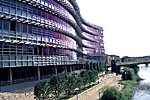 Riverfronts

Our Riverfronts are being beautified. There are now wonderful trails along the Allegheny, Monongahela and Ohio Rivers for running, biking and roller blading. The North Shore Riverfront Park facing downtown Pittsburgh is designed to be one of the most spectacular urban waterfront projects in the U.S. It features green space and "water steps," along with a fishing pier.

There is a Riverlife Task Force whose mission is to coordinate and oversee a comprehensive riverfront development plan.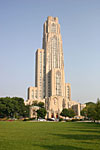 Oakland

Situated east of downtown, Oakland is the academic and health care center of the region. Of the 30 institutions of higher learning in Southwestern Pennsylvania, the two major universities are located in Oakland. One is the University of Pittsburgh with its world-renowned academic medical center, UPMC (University of Pittsburgh Medical Center), and the other is Carnegie Mellon University. Within these great academic intuitions, research and development in biotechnology, bioengineering, regenerative medicine, artificial intelligence, computer technology, environmental technology, and robotics engineering is flourishing.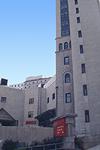 Oakland is also the focus of world attention for its outstanding medical facilities. Here Dr. Jonas Salk discovered the cure for polio in 1952. Today, the University of Pittsburgh Medical Center's Presbyterian University Hospital is consistently named by U.S. News & World Report as one of the "best of the best" hospitals in America. The UPMC is internationally recognized as a leader in organ transplantation, neurosurgery, orthopedics, cardiology, oncology, and psychiatry. Outstanding Children's Hospital's expertise is in transplantation, diabetes, and cardiovascular disease, and Magee-Women's Hospital is a leader in obstetrics and gynecology.

Not far from Oakland is the highly regarded Duquesne University, situated on a bluff overlooking downtown.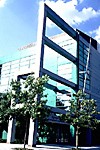 Business and New Industry

The driving forces behind our regional economy are education, healthcare, high technology, biotechnology, financial services and advanced manufacturing.

Pittsburgh is among the top cities in the U.S. for Fortune 500 companies. Those companies who are headquartered here include: U.S. Steel, PPG Industries, PNC Financial Services Group, H.J. Heinz, Wesco International, Inc. and Dick's Sporting Goods.

The Pittsburgh Life Science's Greenhouse (PLSG) is an initiative to develop and support the growth of biotechnology companies that will make Southwestern Pennsylvania a global leader in the industry. The PLSG is focused on developing regional life sciences companies in the areas of drug discovery tools and targets, biomedical devices, tissue and organ engineering, and therapeutic strategies for neurological and psychiatric disorders. The PLSG is a partnership of the University of Pittsburgh, Carnegie Mellon University, UPMC Health System, and the Commonwealth of Pennsylvania.

Travel

In support of both business and pleasure, when you want to travel, you are in easy driving distance to other cities of interest including Cleveland (2 hours), Washington, D.C. (4 hours), Toronto (5 hours), Philadelphia (5-1/2 hours), and New York City (7 hours).

Flying is an even greater pleasure. The Pittsburgh International Airport was designated by Condé Nast Traveler as the number-one airport in the United States and third best in the world. Located 17 miles west of the city, it is not only state-of-the-art, but includes an airmall featuring 100 incredible shopping opportunities and restaurants.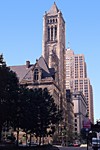 Government

To kick off the new millennium, in 2000, Allegheny County launched a new form of government consisting of a Chief Executive and a 15-member County Council, operating under a newly established Home Rule Charter. Rich Fitzgerald took the oath of office as the third Chief Executive in the history of Allegheny County.
Bill Peduto is Mayor of Pittsburgh.