Discover Pittsburgh
---
City & Region
Economy
Neighborhoods
& Schools
Cultural
Enrichment
Shopping
Sports
Outdoor
Recreation
Special Places
to Visit



Discover the New Pittsburgh - Neighborhoods & Schools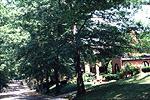 There are wonderful residential areas and schools throughout the Greater Pittsburgh Region. You can live in a loft in downtown Pittsburgh, or in a city neighborhood with all of its urban amenities. If you prefer the suburbs, you can easily find two-acre lots, or five acres with a pond, or a luxurious golf community.

Housing in the City of Pittsburgh is very diverse, and neighborhoods offer a mixture of architectural styles. Houses abound in all sizes and price ranges, along with townhouses, duplexes, apartments, condominiums, and lofts. Gracious older homes can be found in the city's East End neighborhoods of Shadyside, Squirrel Hill, Point Breeze, and Highland Park.

The suburbs offer a variety of residential choices. In the North, elegant Fox Chapel is like living in the "country," but being only 20 minutes from the city.

The North Hills, which is farther out, extends all the way to Cranberry. It is the fastest-growing residential area with dozens of developments in all price ranges as well as opportunities to build.

South of Pittsburgh is Mt. Lebanon, a refined residential community with older homes, and Upper St. Clair in the South Hills is an area with beautiful newer homes and more land.

East of Pittsburgh is Murrysville, an attractive suburb.

Located along the Ohio River, Sewickley is a charming community of old and stately homes, while Sewickley Heights is known for its multi-million dollar estates. Sewickley is built around the concept of a village where the residential areas surround a courtyard of fashionable stores.

The education of our children is a high priority.

The suburban areas of Fox Chapel, the North Hills, Mt. Lebanon, Upper St. Clair, Murrysville, and Sewickley are renowned for having excellent public schools that excel both academically and athletically.

Taylor Allderdice High School in the City is a highly regarded public school with both honors and gifted programs.

In addition, there are outstanding private schools, most notably The Ellis School, St. Edmunds Academy, Sewickley Academy, Shady Side Academy, and The Winchester Thurston School.

Our region has a strong parochial school system as well as Montessori schools. There are also excellent pre-schools in the city and the suburbs.