Newsworthy
---
G20 Summit
Trailing Spouses
Orientation Tours
Schools
Specialized Services
Relocation Articles



Newsworthy - Excerpts Related to Schools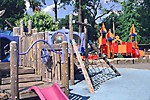 Seducing the Spouse
by Rich Lord, Pittsburgh Magazine.

"There is a school or program for everyone" in Pittsburgh, says Roth, noting that the region is blessed with good public, private and special-needs schools from kindergartens to universities. Roth has taken parents to meet principals, teachers, guidance counselors and basketball coaches. She's researched hockey clubs for families moving here from Canada...

When Frances Johnston and her husband, Robert, considered moving from Columbia, Md., to Pittsburgh late last year, they wanted to be sure that they wouldn't have to resort to private schools for their two sons, ages 5 and 6. "We believe in public education," she says...

Frances visited Central School in Hampton School District and saw kindergarten kids adding, subtracting, multiplying and dividing. Add to that the Pittsburgh Zoo, the Children's Museum and the Carnegie Science Center, and Frances was won over.