Newsworthy
---
G20 Summit
Trailing Spouses
Orientation Tours
Schools
Specialized Services
Relocation Articles



Newsworthy - Excerpts Related to Orientation Tours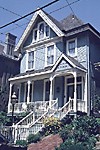 To the Point:
Ellen Roth helps ease the transition for newcomers relocating to the region.
by Cynthia Bent, Executive Report.

Pittsburgh is a city that unfolds slowly, with all its hidden little neighborhoods. It's very helpful to have an insider guide you. If [individuals] know one thing about Pittsburgh, whether it be the sports teams or health care industry," Roth says, "they have a positive image. But if not, they focus on the past, and think it's dirty here. We have the opportunity to show Pittsburgh at it's best, and they're dazzled."...

A service Getting to the Point provides is serving as a recruiting partner for firms showing off the city to prospective hires. Her position as entry point to the city gives her an opportunity to make a difference in a family's decision to move.


---

New in Town? Find out Who's Who:
Local groups offer orientation program for city newcomers.
by Lawrence Walsh, Pittsburgh Post-Gazette.

...They also conduct tours that detail Pittsburgh's economic transformation from a smoky steel town to one that is driven by education, health care and high technology.


---

The Power of Pittsburgh
Tower Publishing, Inc.

Among the most appreciated services offered by Getting to the Point is a comprehensive orientation tour of the city and surrounding areas. This tour provides objective, baseline information on neighborhoods...[and]...gives potential newcomers an overview of the region's growth and development.