The Point

Major George Washington, of the Virginia Militia, first visited The Point, then known as the Forks of the Ohio, in 1753, at the age of 21. On a cold November day, Washington saw the strategic importance of this junction of the Monongahela, Allegheny, and Ohio Rivers. He recommended to British authorities that they build a fort there, and quickly, as the French were nearby and also sought these lands. Thus, in 1754, Fort Prince George was built on the triangle of land at The Point where the mighty rivers converge.

This fort was subsequently captured by the French, who dismantled it and built Fort Duquesne.

Thereafter, the Forks of the Ohio became the spoils of the French and Indian War between the British, French, and Native American Empires. Hundreds of lives were lost trying to possess and defend it.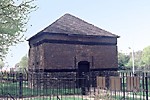 After several years of French domination, the tide turned. In 1758, with British forces descending on them, the French set fire to Fort Duquesne and fled. The British army, under the command of Brigadier General John Forbes, captured The Point and built a fortified camp. General Forbes named the outpost "Pittsburgh," in honor of William Pitt, the Prime Minister of England. In 1759-60, Fort Pitt was erected, and it was renowned as the largest and most elaborate fort on American soil. It secured the Forks of the Ohio for the English.

Today, the Golden Triangle is a gleaming glass-and-steel center of enterprise, where bronze plaques in Point State Park serve as reminders of a tumultuous past. In two-and-a-half centuries, Pittsburgh has gone from a wilderness outpost, to "hell with the lid taken off," to a diverse Renaissance City.

Time has proven George Washington right. Here sits a vital spot of land, ever changing, ever improving. From virgin forest to Golden Triangle, Pittsburgh was, and is, the place to be.